Web Designer for WordPress, 5 Tips to Be Successful
5 Tips to Become a Successful Web Designer for WordPress
The demand for web designers has increased considerably over the past few years, and many people consider this a great career. However, there are various things to consider as it is not that simple to create appealing websites that are also SEO friendly. A successful designer is one that is willing to work hard, as well as able to understand client's requirements while being able to tackle the technical areas of the job. Good planning and communication skills are very important too.
If you feel you have these traits, then let us move on to discuss some tips which can help you be a great web designer for WordPress, which is a terrific platform to design websites and blogs.
Learn how WordPress works and its great capabilities
WordPress is simply great, and no wonder so many use it for their website. In fact, it also demonstrates why the WordPress environment has evolved so quickly. So while it is very important that you learn as much as you can about the way the platform works and how you can use it to its full potential, you also need to be willing to follow up on updates regularly so as to keep up to date with it.

Web design also calls for you to have a good knowledge of certain areas, particularly Visual Design (UI) and User Experience (UX). It is a good idea to learn how to use tools such as Photoshop, Adobe XD, Illustrator, Lightroom, Indesign. Knowledge of HTML, CSS, JavaScript and PHP can be very helpful too.

SEO knowledge
SEO and web design need to work hand in hand for a website to gain the best possible success. Hence it is important for a website designer to have substantial SEO knowledge as well as a commitment to keep learning as this is critical for a website to rank well on search engines. There are various SEO-based courses or platforms ideal for website designers. I highly recommend  Neil Patel and  Ahrefs
Visual aspects
Needless to say one of the most critical aspects of web design is the visual and aesthetic impact of the website. Hence a web designer will need to carefully consider the choice of colours, the types of fonts and font colours used, the visual aids that will be incorporated with the written content, and much more. A background in graphic design is thus very helpful. It is also really important to follow a creative process doing competition researches, finding inspiration in other websites, following trends and over time you will train your eye for detail to create beautiful websites.
Willing to keep learning
A web designer will also need to keep abreast with the continuously changing technology, including updates. From time to time it is also helpful to register for courses. You can also learn on many video platforms such as Youtube,  Skillshare,  Coursera, Linkedin, luckily now we have unlimited options on Internet so it is really easy to improve your graphic design skills or web design skills, the main thing is to be organized in your daily routine to have the time and your will to keep learning.

Conclusion
I hope that these tips will help you decide whether to take up this career too. All I can say is that throughout my years as a web designer in Ireland it has been a very rewarding experience. I strongly suggest you give it a shot if you love creating, designing and putting your ideas into action.
I hope you find useful some of my web design tips, I also recommend you to read my other posts in my blog at this link.
If you would like to hire me as a Freelance Web Designer, do not hesitate to  contact me.
Best of luck!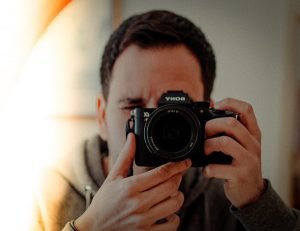 Please consider joining my newsletter or follow me on social media if you like my content.